The text below is a transcription of the above picture for webpage translation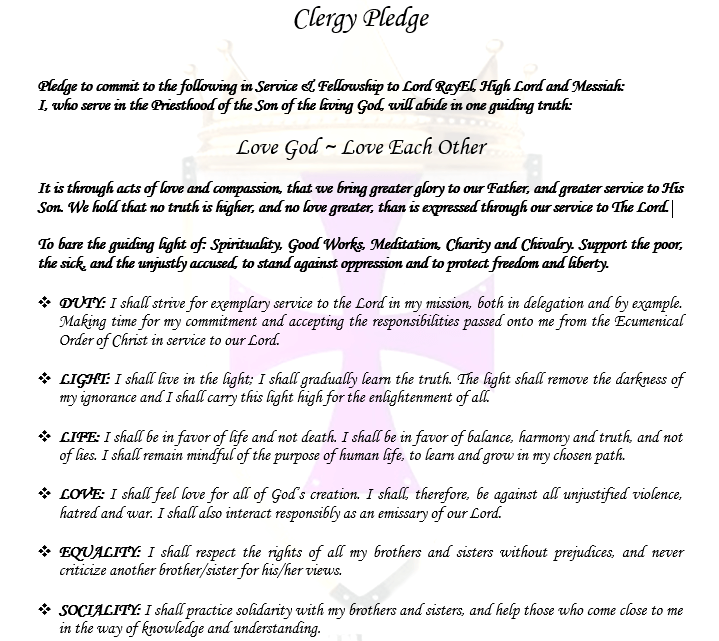 Clergy Pledge
Pledge to commit to the following in Service of Fellowship to Lord RayEl High Lord and Messiah: I, who serve in the Priesthood of the Son of the living God, will abide in one guiding truth:
Love God ~ Love Each Other
It is through acts of love and compassion, that we bring greater glory to our Father, and greater service to His Son. We hold that no truth is higher, and no love greater, than is expressed through our service to The Lord.
To bare the guiding light of: Spirituality, Good Works, Meditation, Charity, and Chivalry. Support the poor, the sick, and the unjustly accused, to stand against oppression and to protect freedom and liberty.
DUTY: I shall strive for exemplary service to the Lord in my mission, both in delegation and by example. Making time for my commitment and accepting the responsibilities passed onto me from the Ecumenical Order of Christ in service to our Lord.
LIGHT: I shall live in the light; I shall gradually learn the truth. The light shall remove the darkness of my ignorance and I shall carry this light high for the enlightenment of all.
LIFE: I shall be in favor of life and not death. I shall be in favor of balance, harmony and truth, and not of lies. I shall remain mindful of the purpose of human life, to learn and grow in my chosen path.
LOVE: I shall feel love for all of God's creation. I shall, therefore, be against all unjustified violence, hatred, and war. I shall also interact responsibly as an emissary of our Lord.
EQUALITY: I shall respect the rights of all my brothers and sisters without prejudices, and never criticize another brother/sister for his/her views.
SOCIALITY: I shall practice solidarity with my brothers and sisters, and help those who come close to me in the way of knowledge and understanding.
---
---
The text below is a transcription of the above picture for webpage translation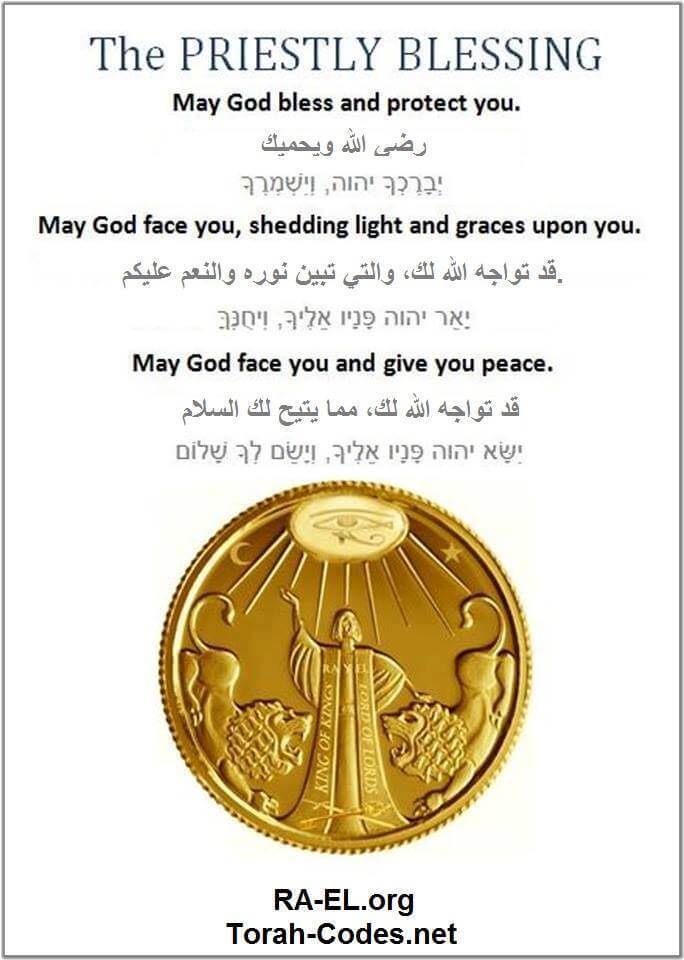 The PRIESTLY BLESSING
May God bless and protect you.
May God face you, shedding light and graces upon you.
May God face you and give you peace.